The quality of the food
people&baby daycare centres pay particular attention to food. Whether delivered or prepared in-house, our meals are based on balanced menus made up of fresh produce.
75% sustainable products, including 50% organic products
In 2009, as a pioneer in sustainable food, people&baby introduced the Crèche Bio label in its facilities, guaranteeing a diet made up of 50% organic products, i.e. 3 organic items per age group per day, divided between fruit, vegetables, starchy foods, eggs, dairy products and biscuits.
In our daycare centres, meals are composed mainly of unrefined, fresh, seasonal produce. Every day, children eat :
local products (grown within 200 km of the daycare centre),
some of the best meats from France, such as "Race à Viande" beef,

MSC-certified sustainable fishing and quality boneless fish,

labelled products: Label Rouge white ham, AOC Cantal, IGP tomme, PDO Saint Nectaire, etc.
This fresh cuisine, with no recourse to industrial products, guarantees the absence of palm oil, GMOs and additives, and keeps salt and fat intake under control.
The dishes are prepared using raw ingredients, with no products from the food industry, including sauces, soups and pastries.
Some people&baby daycare centres are equipped with a kitchen. The food is delivered in raw form, then prepared by a cook. In the rest of the network, meals are delivered cold and reheated on site. In both cases, the controls are extremely rigorous, in particular to guarantee the cold chain and compliance with hygiene standards.
Healthy menus
Specialising in baby food, the catering service provider we have selected works exclusively with local partners, so the children benefit from recipes and products specific to each region.
Our catering service providers are selected on the basis of rigorous specifications that comply with the recommendations of the GEMRCN (Groupement d'Etude des Marchés en Restauration Collective et de Nutrition) in terms of the nutritional quality of meals.
All the menus offered in our daycare centres are created by dieticians, guaranteeing children a varied and balanced diet.
Sorting and packaging: a responsible commitment
We have also chosen our service provider for their commitment to eco-responsibility: concerned about their environmental impact, our supplier sorts all their waste in an ecological approach (cardboard, paper, crates, organic waste, etc.) and all meals are delivered in stainless steel trays rather than plastic.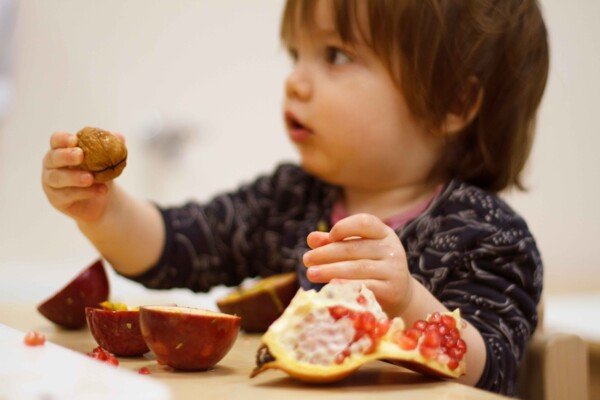 Taste awareness
In our daycare centres, every meal is an enjoyable moment and an opportunity to learn about taste. Taste is one of the first senses to develop in children; it is an integral part of their development. Themed menus, discovery activities and seasonal events are frequently offered.
Every year, Taste Week is an opportunity to organise festive culinary workshops with parents. Finally, we also introduce toddlers to a number of products that are a little forgotten today: fennel, celery, redcurrants, parsnips, Jerusalem artichokes, rhubarb, dill, mint, etc.