People&baby bilingual daycare centres
A pioneer of innovation in the daycare centre sector in France, people&baby has developed a constantly expanding network of international bilingual daycare centres.
A network of 204 international bilingual daycare centres
More than 4,000 children cared for
Nearly 1,400 professionals, half of whom are bilingual or native speakers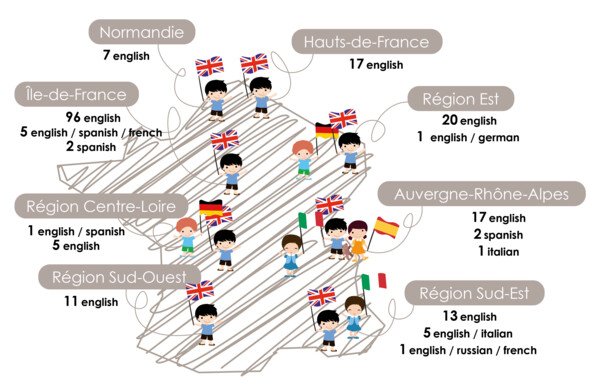 DISCOVER OUR BILINGUAL DAYCARE CENTRES
International bilingual daycare centres: for whom?
In France, there are many reasons why families choose a bilingual daycare centre for their child:
families from a variety of cultures who are not fluent in French, and for whom communication in English is easier for both parents and child;
families who want their children to be immersed from an early age in an environment that encourages them to learn a new language and discover other cultures.
What is an international bilingual daycare centre?
Most daycare centres are bilingual in English and French, but there are also bilingual daycare centres offering immersion in Spanish, Italian and German.
Teams are made up of at least 50% of staff fluent in a second language and a native speaker.
In most centres, outside speakers specialising in language learning for toddlers come to run workshops.
The approach is above all playful: the discovery of languages takes place through activities (songs, daycare centre rhymes, stories, puppets, etc.) or during everyday life (meals, change time, etc.). Introducing children to languages gives them a sense of linguistic and cultural diversity: "There are other languages and other sounds".