People&baby bilingual daycares
Pioneers in innovation within the daycare sector in France, people&baby has developed a network of bilingual international daycares in constant expansion.
A network of more than 204 bilingual international daycares
More than 2000 children enrolled
Close to 700 professionals with half of them bilingual or native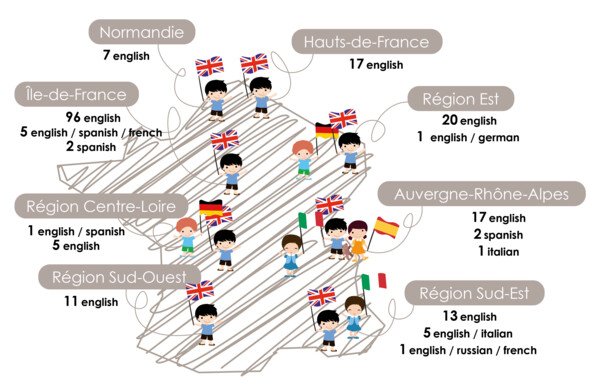 DISCOVER OUR BILINGUAL DAYCARES
Bilingual daycare : for who ?
In France, the reasons which motivate families to choose a bilingual daycare for their child are numerous, but most of the time it concerns :
Families from various cultures, who don't speak French and find it is easier to communicate in English, for the parents and the child.
Families who wish to immerse their child, from a very young age, in an environment promoting foreign language learning and the discovery of other cultures.
What is a bilingual daycare ?
The majority of our centers are bilingual in French and English, but there are also some bilingual daycares enabling a language immersion in Spanish, Italian and German.
The teams are made up with at least 50% of professionals speaking fluently a second language and of one native professional.
The approach is playful: the language discovery takes place during activities (songs, nursery rhymes, stories, puppets…) and throughout the daily routines (meals, changing time…)
Language awakening incorporate the child in a cultural and linguistic diversity: "other languages and sounds exist".