Crèche Solidarité Emploi
The "Crèche Solidarité Emploi" scheme set up by people&baby and Pôle emploi in March 2014 has proved its effectiveness.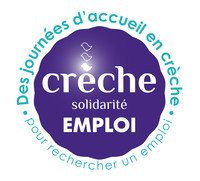 For 86% of the people surveyed by people&baby*, looking after their child is a fairly significant, and for some very significant, obstacle to their job search. Because of this constraint, 40% have already given up at least once on going to a job interview; 30% have been unable to take part in training and 25% have had to turn down a job.
With this in mind, people&baby has joined forces with Pôle Emploi to set up the "Crèche Solidarité Emploi" scheme, which enables the children of jobseekers to be looked after in daycare centres while they go through the process of applying for a job, whether that means going to a job interview, taking part in a training course or just freeing up some time to apply for vacancies.
An effective scheme, acclaimed by its beneficiaries
The first "Crèche Solidarité Emploi" partnership agreement was signed by the two partners in March 2014. After eight years of existence, the results of the "Crèche Solidarité Emploi" scheme are more than positive: between January 2016 and May 2023, 4,957 applications were received. Of these 4,957 applications, 17% went on to an appointment for a job interview, 27% were used to look for a job, and 31% went on to training.
The majority of applicants are women (94%, compared with 6% men); they come from all socio-professional categories (45% employees, 23% intermediate professions, 20% executives, higher intellectual professions, etc). Of these requests, 63% came from the Ile-de-France region, 11% from the South-East region, 8% from the South-West region and 8% from the Auvergne-Rhône-Alpes region.
In total, 4,860 days of care have been provided to 609 families since January 2016.
Christophe Durieux, Chairman of people&baby, comments: "This scheme has been designed and set up to remove a real barrier to job-seeking. We are very proud to be doing our bit, along with Pôle Emploi, to combat the scourge of unemployment for families in France. In addition to this scheme, people&baby's priority is to help working parents achieve a better balance between their professional and personal lives by offering solutions tailored to the needs of individuals, businesses and local authorities."
*Study conducted by people&baby from 150 participants who were sent a Crèche Solidarité Emploi registration form.

Request a day of childcare in one of our centres
See the report on Crèche Solidarité Emploi by France 3 (February 2015)
Learn more about Crèche Solidarité Emploi
Learn more about our educational mission, our policies for creating centres, and our bio en crèche label.