Crèche Solidarité Emploi
The "Crèche Solidarité Emploi" programme created by people&baby and the French employment office (Pôle Emploi) in March 2014 has proven to be a success.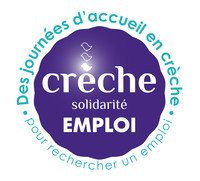 86% of people polled by people&baby* say childcare is a major obstacle to their search for employment. As a result of childcare issues, 40% have been forced to turn down job interviews; 30% have been unable to participate in training sessions, and 25% have had to turn down job offers.
To respond to this issue, people&baby and Pôle Emploi created "Crèche Solidarité Emploi", a programme that provides occasional childcare to job seekers so they can go to interviews, participate in training sessions, and simply have time to apply for jobs.
An effective and accessible scheme
The first "Crèche Solidarité Emploi" partnership agreement was signed by the two partners in March 2014. Five years later, the reports for "Crèche Solidarité Emploi" are positive. From March 2014 to December 2019, 7,235 requests for care were received, including 1447 for 2019 alone. Of these 7,235 requests, 38% were used to look for work, 27% resulted in a meeting with a recruiter or a Pôle Emploi agent; 25% participated in a training programme.
Applicants for this programme tend to be women (94% women vs. 6% men); they come from all socioeconomic backgrounds (45% salaried employees, 23% intermediary professions, 20% executives, intellectual professions, etc.). In 2019, 65% requests came from the Paris area, 10% from the southeast, and 9% from the southwest.
Overall, 6,900 days of childcare have been provided for 1,412 families since March 2014.
This programme really helps people get back to work
38% of the people to receive childcare in 2014 found a job and 83% of them believe Crèche Solidarité Emploi was a contributing factor. 86% of childcare recipients think the programme is useful or very useful; 90% say the care was satisfactory.
For Christophe Durieux, the president of people&baby: "This programme was designed to remove a roadblock to employment. Together with Pôle Emploi, we are very proud to be able to contribute in our way to fighting against the scourge of unemployment among French families. Beyond this programme, our priority at people&baby is to help working parents better balance their professional and personal lives. We offer personalised solutions for individuals, companies, and local communities."
*Study conducted by people&baby from 150 participants who were sent a Crèche Solidarité Emploi registration form.

Request a day of childcare in one of our centres
See the report on Crèche Solidarité Emploi by France 3 (February 2015)
Learn more about Crèche Solidarité Emploi
Learn more about our educational mission, our policies for creating centres, and our bio en crèche label.