Our "Génération durable" project
Encouraging wellbeing and wonder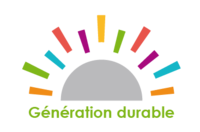 Our centres are designed to elicit surprise. This helps little ones develop their senses, curiosity, and intelligence.
Children are invited to relax and express their emotions in a calm environment.
Developing communication
Daily activities: reading time, activities to light up their imaginations, discovering foreign languages, communicating through gestures (inspired by sign language).
Opening children up their surroundings
Nature is a familiar playground in our centres: gardening, green walls, workshops with recycled or natural materials, bringing their awareness to living things … these are all part of daily life in our centres.
We open children up to the world through art and exposure to other cultures.
By inviting diversity into our centres – activity leaders, families from different cultures, children with disabilities – we teach children respect and tolerance.
Discover people&baby's educational mission
Our team of educational experts have designed innovative workshops for our Génération Durable programme:

Imagine: exposing children to foreign languages – English, for instance – through storytelling and shows.
Recycling: creating musical instruments and toys from recuperated materials.
Signs: learning to express their needs, desires, and emotions with sign language for babies.
Zen: relaxing and discovering their body.
Parent/Child: including families in life at the centre.
Gardening: exploring the world of plants, developing their empathy and respect for living things.
Ephemeral art: experiencing wonder with artistic installations made from recuperated materials.
Learn more on our policies for taking over or creating a centre, organic meals in our centres, and our educational mission.