Creating and taking over a centre: our expertise
As an adviser, pilot, investor, and manager, people&baby assists companies and local communities create or take over a childcare centre.
Advising
people&baby advises very small and small/mid-size companies (TPE and PME), as well as large companies and local communities in search of childcare solutions to meet their needs.
For companies, we may advise you to reserve one or several spaces in one of our centres or network centres, participate in creating a single or shared company centre, or adopt an emergency care solution with Flexi Crèche.
For local communities, we may suggest you create a centre, contract with a public sector department to take over an existing centre, or reserve spaces in our centres.
Creating a centre
This service includes 3 major steps: an advisory phase and feasibility study; the creation and steering of the project up to opening; managing the Early Childhood centre.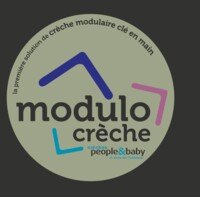 To control costs, you may consider people&baby's Modulo Crèche concept: prefab blocks for a designated number of spaces (30, 45, or 60) that can be extended.
Made from solid PEFC/FSC wood (materials from sustainably and responsibly managed forests), Modulo centres can be set up in 3-4 months after building permits have been acquired.
Taking over an existing centre
people&baby offers local communities the opportunity to seamlessly take over an existing centre.
The local community can enjoy the people&baby experience at a lower price thanks to cost sharing for supplies, construction, and support staff. In addition, the local community avoids "operating risks" and receives regular reporting.
To compare public with private management costs, the local community can request an audit of people&baby Early Childhood centre services, no strings attached.
Learn more about our childcare educational mission, centres and employment, and our organic label.