Our story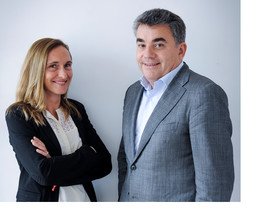 The story of people&baby began in 2004 against the backdrop of a chronic lack of space in childcare centres all over France. Today, people&baby includes 700 private and public centres and has become the leading family owned and operated independent childcare solution in France.
people&baby is 100% owned by its two founders: Christophe Durieux, an entrepreneur, and Odile Broglin, a paediatric nurse. The network is the only of its kind whose daily operations are overseen by a woman specialised in Early Childhood Development.
A community-oriented model childcare centre for all
Since its inception, people&baby has been built on an innovative model based on a true commitment to community. In fact, all of our centres are approved by French Mother and Child Protection Services (PMI) and eligible for French family allowance (CAF) benefits, which means parents can enjoy the same rates at our multi-formula centres as for public facilities.
In addition, a unique partnership with the French employment office (Pôle Emploi) called "Crèche Solidarité Emploi" provides job seekers with occasional care. This community-minded initiative is the only one of its kind.
In the same spirit, Crèches Pour Tous posts the availability of all people&baby centres (700) and partner establishments (3,160 private and public centres) so families can learn about open spaces in real time.
A company with more than 15 years of growth
Since it was established, people&baby has made the choice to create a dense and far-reaching network of centres to offer families a range of childcare possibilities near their home or place of work. With more than 850 people&baby operated centres, we have posted an organic annual growth in excess of 35% since 2004.
In 2015, people&baby expanded our range of services with Flexi Family, an online platform with advice and in-home services (Childhood, Dependence, Home, Parenting) to help make life easier for families. The company joined the French Federation of Personal Services (FESP).
Key dates
2004: Founding of people&baby

2008:

Launch of Flexi crèche, the first emergency childcare service for all salaried parents.

2008: Signing of the Parenthood in Companies Charter

2009: Creation of Crèches Bio

2011: Creation of Crèches Pour Tous and Modulo Crèche, the first modular environmentally-friendly childcare centre

2011: Adoption of the ISO 26000 standard, on corporate social and environmental responsibility

2013: Creation of the people&baby Foundation for Childhood, under the aegis of the Fondation de France

2014: Creation of Crèche Solidarité Emploi, a unique partnership with Pôle Emploi

2015: Member of the French Federation of Personal Services (FESP)

2015: Member of the network of Entrepreneurs of the Future

2016: Creation of Génération Durable

2017: Creation of Flexi Family, a comprehensive range of family services

2017: First bilingual childcare centres in Ile-de-France

2018: Launch of crècheslib, an online reservation system of half-days in our centres

2018: Creation of everykid.com, an online shop with more than 1,500 prof-tested items for children

2019 : people&baby is expanding the scope of his daycare services with yoga classes and awakening workshops "Graines de Génies" on saturdays and with Summer Camps on holidays.

2020 : creation of the program "My crèches at home" sent to all parents during the confinement
people&baby in numbers (2022)
The leading independent family owned and operated network of childcare centres in France

33,000 children cared for in our centres per day

700 directly operated centres

3,160 "Crèches Pour Tous" partner centres

10 600 team members

80 local community groups

2,750 corporate clients

35% organic annual growth