Our organisation
Since people&baby was established in 2004, the number of spaces in our centres has grown considerably. First introduced in the Paris area, the company's initial home, people&baby has expanded into regions throughout country with the opening of local branches in the main cities of France, and then into the overseas territories and departments and Luxembourg.
Head Office and Regional Offices
The head office houses management for five main departments:
Early Childhood Operations

Financial Operations

Finance and Administration

Human Resources

Development

Architecture
people&baby also has ten regional offices across France, with multidisciplinary teams:
Early Childhood development professionals

in charge of implementing our mission and coordinating with centres, performing audits with local early childhood authorities, and recruitment.

Regional development officers

are responsible for development initiatives and relations with companies and local communities.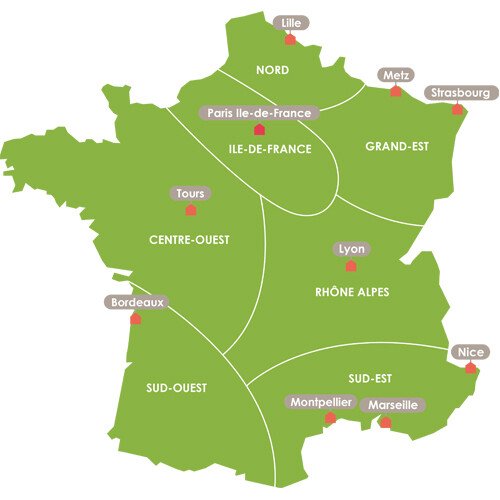 Head office
9, avenue Hoche
75008 Paris
Phone: +33 1 73 72 98 09
accueil@people-and-baby.com
Rhône-Alpes/Lyon region
Phone: +33 4 78 27 27 58
rhonealpes@people-and-baby.com
Eastern/Metz region
Phone: +33 6 66 66 61 75
grandest@people-and-baby.com

Eastern/Strasbourg region
Phone: +33 6 67 62 43 31
grandest@people-and-baby.com
Ile de France/Paris region
Phone: +33 1 58 05 18 70
idf@people-and-baby.com

Northern/Lille region
Phone : +33 6 98 99 96 54
fabienne.lejeune@people-and-baby.com
Centre West/Tours region
Phone : +33 7 68 32 79 53
stanislas.cordier@people-and-baby.com
Southwest/Bordeaux region
Phone: +33 9 53 09 77 60
remi.allovon@people-and-baby.com
Southeast/Marseille region
Phone: +33 6 67 48 76 00
herve.margail@people-and-baby.com

Southeast/Nice region
Phone: +33 6 67 48 76 00
herve.margail@people-and-baby.com

Southeast/Montpellier region
Phone: +33 6 67 48 76 00
herve.margail@people-and-baby.com