Our organisation
Since its creation in 2004, the number of places in daycare centres created by people&baby has grown remarkably. Initially present only in Ile-de-France, the group's historic region, people&baby's activity has gradually expanded to the regions, with the opening of local offices in the main towns and cities of France, then in the French overseas departments and territories as well as internationally.
Head Office and Regional Offices
At the head office, six business units are organised around the Early Childhood division:
The Early Childhood Operations Department

Financial Operations Department

The Administrative and Financial Department

Human Resources Department

The Development Division

The Architect Department
people&baby also has ten regional offices throughout France, in which skills are organised into multidisciplinary teams:
Early Childhood professionals in charge of setting up and coordinating daycare centres, carrying out audits of facilities for local authority early childhood departments and recruiting local professionals.
Regional development managers in charge of project development and relations with companies and local authorities.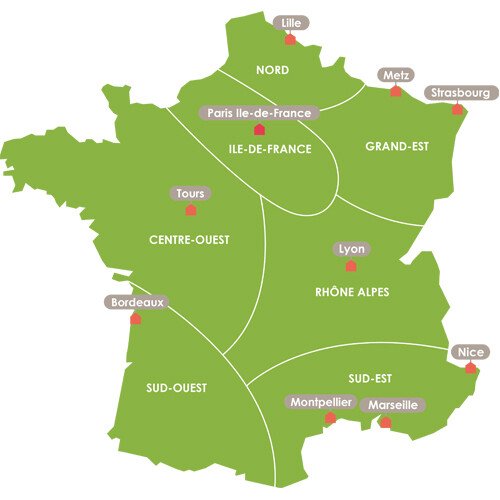 Head office
9, avenue Hoche
75008 Paris
Phone: +33 1 73 72 98 09
accueil@people-and-baby.com
Parent collections department
servicerecouvrement@people-and-baby.com
Rhône-Alpes/Lyon region
Phone: +33 4 78 27 27 58
celine.daudre@people-and-baby.com
Eastern/Metz region
Phone: +33 6 66 66 61 75
grandest@people-and-baby.com

Eastern/Strasbourg region
Phone: +33 6 67 62 43 31
grandest@people-and-baby.com
Ile de France/Paris region
Phone: +33 1 58 05 18 70
idf@people-and-baby.com

Northern/Lille region
fabienne.lejeune@people-and-baby.com
Centre West/Tours region
Phone : +33 7 67 12 84 66
yasmina.alloulabdellaoui@people-and-baby.com
Southwest/Bordeaux region
Phone: +33 6 51 77 91 59
laetitia.LANCLAS@people-and-baby.com
Southeast/Marseille region
Phone: +33 6 67 48 76 00
herve.margail@people-and-baby.com

Southeast/Nice region
Phone: +33 6 67 48 76 00
herve.margail@people-and-baby.com

Southeast/Montpellier region
Phone: +33 6 67 48 76 00
herve.margail@people-and-baby.com